What Time of Year Should I Travel to Manuel Antonio, Costa Rica?
June 26, 2021
Villa Punto de Vista
Manuel Antonio is an oceanside community off Costa Rica's central Pacific coast. It's best known for the national park, which boasts stunning, unique scenery — and amazing wildlife to match. The destination is also home to some extraordinary resorts, specifically the Villa Punto de Vista Estate. If you're planning a trip to the area, you'll want to check out these key factors to help you determine the best time to visit Manuel Antonio, Costa Rica.
The Best Time of Year to Visit Manuel Antonio for Perfect Weather
Costa Rican weather is what attracts most people to the country. No matter when you travel, you can enjoy the warm and breezy tropical climate — but temperatures and precipitation do vary throughout the year. For the mildest temperatures and lowest precipitation, plan your trip for December, January or February.
A common question travelers have if they're familiar with tropical climates is, when is the rainy season in Manuel Antonio, Costa Rica? Costa Rica has two seasons, which are the high or dry season and the green or low season.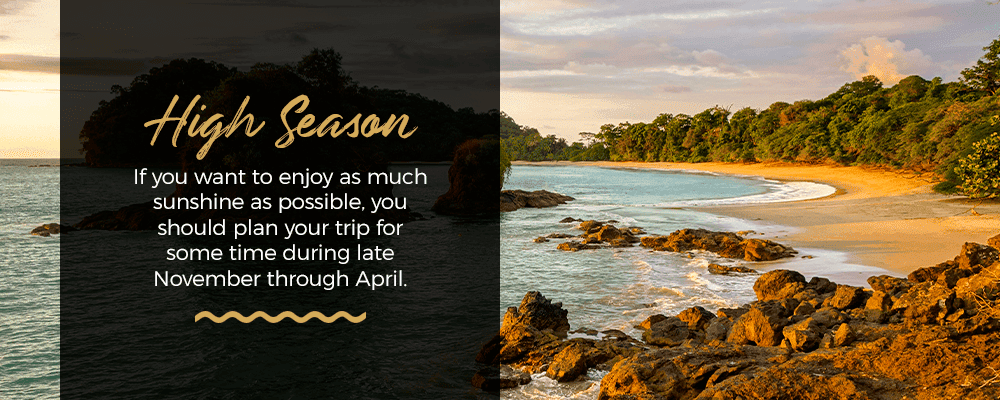 High season: If you want to enjoy as much sunshine as possible, you should plan your trip for some time during late November through April. Don't let the term "dry season" fool you — in Manuel Antonio, you'll still experience lush greenery, and you may even experience a refreshing rainforest misting at some point. You can expect more sunshine, though, making this the perfect time to plan outdoor activities or events.
Green season: The green season, which runs from late May through November, is when you can expect the most rain showers. Between May and August, rain showers are often short-lived, so you still enjoy many hours of sunshine. The highest rainfall levels occur in September and October, so Manuel Antonio is usually less populated with tourists during this time — but you can still take part in endless activities in Manuel Antonio when it rains.
The Pacific coastal region, which includes Manuel Antonio, mainly has warm, dry weather, which makes it a top destination for outdoor activities. The hottest months are March through April, but even then, temperatures rarely reach 100°F. There isn't much change in the temperature throughout the year. While lows tend to stay in the upper 60s or low 70s, highs remain in the upper 70s to mid-80s.
Any time you travel to Manual Antonio, you can expect temperatures that are warm enough for outdoor activities like hiking or swimming without feeling uncomfortably hot.
The Best Time to Visit Manuel Antonio for Holidays and Festivals
If you want to soak up the local culture, you may want to plan your trip around some of Manuel Antonio's annual celebrations. You'll find that most major events take place in the country's capital of San Jose, located just under 100 miles north of Manuel Antonio. However, there are a few country-wide celebrations and nearby regional festivities you can take part in without traveling far.
Mark your calendar for these annual festivities during your stay in Manuel Antonio:
New Year's Day: Costa Ricans shoot off fireworks and have lively street parties, complete with music, dancing and delicious food, to celebrate the New Year.
Mardi Gras: If you visit in mid-February, you can take part in the Mardi Gras festivities in Esterillos, which is under an hour's drive from Manuel Antonio. Watch the parade, enjoy some street food and let loose before Lent begins.
Feast of Saint Joseph: Dia de San Jose, or St. Joseph's Day, is a significant holiday in Costa Rica. It's no wonder since the country's capital is named after Saint Joseph. Every March 19, Costa Ricans celebrate with festivals and Catholic masses.
Easter: Holy Week is a popular time for tourists to visit Costa Rica. This lead-up to Easter includes religious parades and celebrations. On Easter, religious visitors may want to attend mass at one of the Catholic churches in the Manuel Antonio area.
Juan Santamaria Day: On April 11, Costa Rica celebrates Juan Santamaria Day with rodeos and street festivals. This public holiday commemorates the heroic actions of Juan Santamaria at the Second Battle of Rivas in the mid-19th century.
Independence Day: On September 15, Costa Ricans and other Central Americans celebrate their independence from Spain with parades and parties. The night before, you may be able to join an evening walk illuminated by lanterns, known as the Desfile de Faroles.
The Best Time to Visit for Marine Life Activities
There are loads of activities you can take part in throughout the year in Costa Rica. For most outdoor activities, the only consideration is the weather. However, some activities, particularly ones involving marine life, may be better suited to certain times of the year: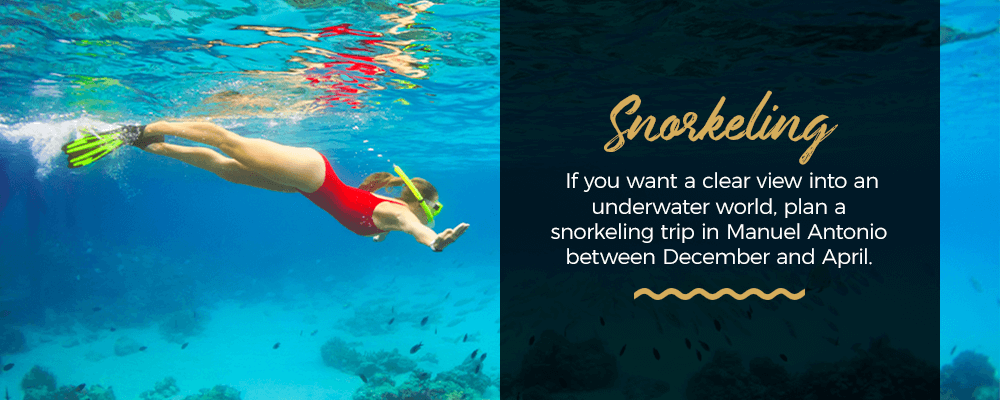 Fishing: Fishing is a popular sport and pastime in Costa Rica year-round. The best time to go to Manuel Antonio, Costa Rica, for a fishing trip depends on which fish you want to catch. February is the best time for catching sailfish, one of Costa Rica's biggest draws for sport anglers, and you can expect to see countless marlin from December through April.
Snorkeling: If you want a clear view into an underwater world, plan a snorkeling trip in Manuel Antonio between December and April. You may even see a giant manta ray! During the green season, underwater visibility is typically not as clear due to runoff from surrounding rivers, so be sure to book in the high season when you're planning a snorkeling trip in Costa Rica.
Whale-watching: Costa Rica has an exceptionally long whale-watching season. Any time from August to April, you'll likely have a chance to spot a whale during your stay. August through November is the best time for spotting humpback whales close to the shore, so if a whale-watching tour is on your agenda, plan your trip in the fall.
Enjoy a Year-Round Tropical Paradise at Villa Punto de Vista
No matter when you're traveling, Manuel Antonio offers beautiful weather, stunning nature and endless activities. When you reserve a private villa on the Villa Punto de Vista estate, you can enjoy paradise on another level. When it's sunny, you can head out to explore the scenery or relax at your private pool. During rain showers, you'll take in the breathtaking views from your private balcony before enjoying a day at the spa.
Whenever you make the trip to gorgeous Costa Rica, you're sure to experience a memorable trip when you stay with us. Check our availability and rates to plan your dream vacation today.