Why Costa Rica is the Perfect Fishing Destination
January 27, 2021
Villa Punto de Vista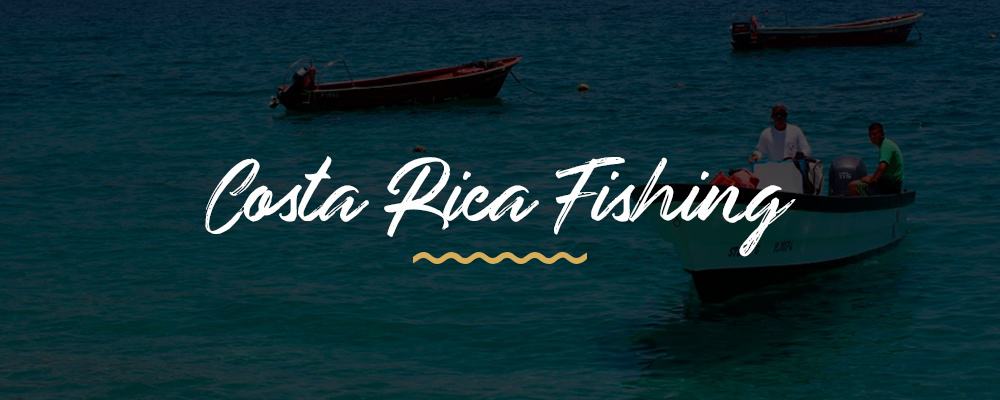 Costa Rica's natural beauty is enough to attract tourists, but that's not all the country has to offer. Costa Rica is a spectacular destination for fishing. With hundreds of miles of coastline, as well as rivers, marshes and lakes, Costa Rica offers no shortage of fishing locations and experiences, including inshore, offshore and deep-sea fishing. You'll also find a wide array of native fish species, including the ever sought-after billfish.
Why Costa Rica Is the Perfect Destination for Fishing Enthusiasts
There are several reasons Costa Rica attracts many fishing enthusiasts to its shores. One prominent reason is the abundance and rich biodiversity in Costa Rica's fish, both along the coastline and in bodies of freshwater throughout the country. In a matter of minutes, you can be on the coast, fishing for a variety of species, including favorites like mahi-mahi and tarpon.
Costa Rica's tropical climate also contributes to its reputation for great fishing. The climate doesn't just make for enjoyable fishing conditions. Warm waters invite a plethora of fish and make Costa Rica's coastline a natural breeding ground and nursery for many species.
Fishing in Costa Rica is also especially convenient. There are many places you can go to fish, with plenty of rental options or fishing charters.
Additionally, anglers enjoy deep-sea fishing in Costa Rica because they don't have to travel out as far to get beyond the continental shelf. For example, in locations like Mexico, you may have to troll out two hours before you make it to deeper water. In Costa Rica, you can get to deeper water in just 30 to 45 minutes. This makes for a more convenient and enjoyable fishing experience.

Saltwater Fish in Costa Rica
Costa Rica is best known for its billfish, which includes sailfish and marlin. Some anglers visit Costa Rica in hopes of catching a sailfish. These impressive fish are abundant off Costa Rica's coasts. Over the course of one day during the 2016 Los Sueños Triple Crown, 43 boats caught and released a total of 1,103 sailfish. Sailfish don't just look impressive — they're the fastest fish in the ocean, boasting speeds up to 68 miles per hour.
Blue and black marlin are also popular types of billfish that attract fishing enthusiasts to Costa Rica. According to the International Game Fish Association, the world records for the largest black marlin and the largest blue marlin were both caught in South America and weighed in at 1,560 pounds and 1,402 pounds, respectively. If you catch any sailfish or marlin, you must release them back to the ocean.
If your heart is set on catching a billfish, you'll want to come during peak season, which is November through April in the central and southern portions of Costa Rica, and May through December in the north. In Central Costa Rica, you're most likely to catch a sailfish in February. December to April is best for marlin, though April and May is when you'll spot more black marlin.
Roosterfish is another popular fish for anglers in Costa Rica. This fish is available year-round, but they're most prevalent in the months of November through March. Snapper is also available year-round, though their highest density tends to be the latter half of the year. The fast, colorful dorado, also called mahi-mahi, is most prevalent in May through November. Peak fishing season for tarpon is in September through January.
Wahoo are known to put up a serious fight, but if you're up for a challenge, you're most likely to find these fish in May through August, though they're around all year. Yellowfin tuna are also known to be strong fish that put up a fight. If you want to catch an especially large tuna, look for them in the spring and early summer.
These fish may be some of the most popular targets for sport fishers, but they aren't the only ones you can fish for in Costa Rica. Costa Rica's saltwater areas are also home to many other species, including the following:
Trevally
Amberjack
Grouper
Black drum
Yellowtail snapper
Jack crevalle
Permit
Snook
Freshwater Fish in Costa Rica
In Costa Rica, offshore and deep-sea fishing for saltwater species tends to get the spotlight. However, Costa Rica's jungle rivers and other bodies of freshwater are full of fish, including:
Rainbow bass
Machaca
Mojarra
Tarpon
Snook
Guapote
Alligator gar
Roncadora
Rainbow and cutthroat trout
Some fishers may enjoy spending an adventurous day of deep-sea fishing in Costa Rica followed by a more peaceful day of fishing on a riverbank or lake, surrounded by lush, green scenery.
Best Places to Fish
There are many places throughout Costa Rica's interior and coastal areas that are fantastic for fishing. Some are located along the northern Caribbean coast, though you must take a boat or small plane to get to this remote area. The North Pacific also offers excellent fishing areas in the Gulf of Papagayo and Tamarindo, where you can find some of the best deep-sea fishing in Costa Rica. In the South Pacific part of Costa Rica, you can fish in the Gulfo Dulce.
Some of the very best fishing in Costa Rica is found in the Central Pacific region. One of the most popular destinations for sport fishing is Los Sueños Marina in Jaco. This marina was the first one in Costa Rica to be government sanctioned, and it serves as a service port for a large number of sportfishing boats in the region. Some fish that anglers can hope to catch in Los Sueños include marlin and roosterfish.
A popular destination that attracts some travelers to Costa Rica's Central Pacific region is Manuel Antonio National Park. This is the perfect place to explore the Costa Rican rainforest. For deep-sea fishing near Manuel Antonio, be sure to visit Quepos — another one of the most popular fishing destinations in Costa Rica. Sailfish and marlin are bountiful in the Pacific Ocean near Quepos. You can also fish for roosterfish, snapper, dorado and more.
The best place to fish in Quepos is at the Marina Pez Vela. This full-service marina is the largest in Central America and is equipped with dry docks for boats up to 200 feet. There are many rental options you can take advantage of at the marina, including small vessels, like 20-foot center console boats, mid-size yachts and fully equipped fishing charter boats with the best equipment available.
Villa Punto de Vista guests can even enjoy a luxurious outing for up to 10 people on a 60-foot yacht. The marina also features some fantastic restaurants, ice cream shops and stores, so there's plenty to do for those who would rather stay ashore.
When it comes to freshwater fishing, there are a few places you may want to consider visiting. One is Lake Arenal in northern Costa Rica. This lake lies at the base of the Arenal Volcano, making for a scenic fishing location. Even further north is Caño Negro National Wildlife Refuge, another popular destination for freshwater fish. If you're in the Central Pacific region for the popular saltwater fishing destinations, you can also visit a popular spot for freshwater fishing in this area: Río Savegre. This river is best known for its trout fishing.
How to Fish in Costa Rica
To enjoy a fishing excursion in Costa Rica, there are a few steps you'll need to undertake.
1. Research Costa Rica Fishing Seasons
Depending on where you plan to visit and what types of species you want to fish for, you'll need to find out when the best time is for your trip. Fortunately, the best time to fish in Costa Rica is all the time since some type of fish will always be around.
2. Obtain a Fishing License
To fish in Costa Rica, you will first need to purchase a license. If you sign up for a fishing charter, your license will likely be included as part of the package, but you should check with the captain to confirm.
3. Choose a Fishing Charter or Tour
Sportfishing enthusiasts may have their own boat and gear and be ready to set out on the open waters to fish on their own. However, if you're like most vacationers, you may prefer to have a captained boat and equipment ready to go for you.
If this is the case, you should sign up for a fishing charter or tour. You can find excursions for any of Costa Rica's popular fishing locations and can choose one that lasts all day or for a shorter period if you want to fit other activities into your itinerary.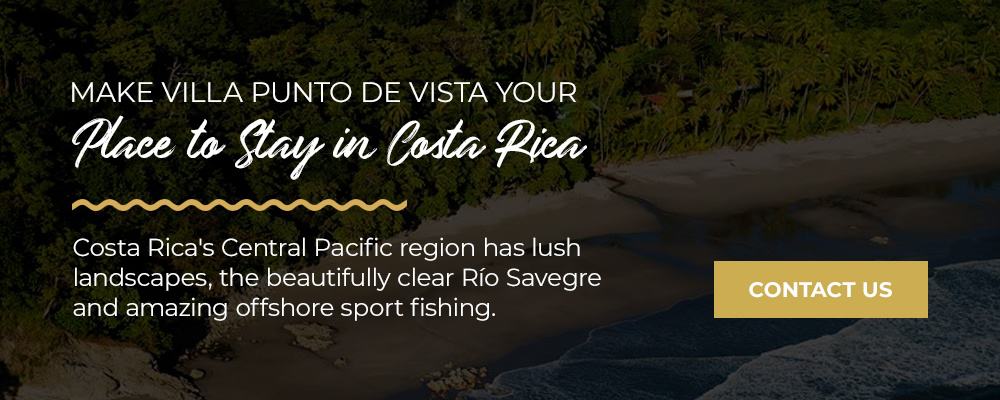 Make Villa Punto de Vista Your Place to Stay in Costa Rica
Costa Rica's Central Pacific region has lush landscapes, the beautifully clear Río Savegre and amazing offshore sport fishing. If you want to stay in this region, consider booking a stay at one of the two private villas on the Villa Punto de Vista Estate. Located just 10 minutes from the Marina Pez Vela, our property is ideal for any fishing enthusiasts visiting Costa Rica.
By day, you can explore the rainforest, fish, scuba dive, whitewater raft or otherwise enjoy the outdoors. Once evening falls, spend time with your friends or family at the Villa Punto de Vista Estate. Our private chef can even prepare your freshly caught fish for a spectacular meal at the villa the same day. Then, enjoy a relaxing evening and wake up the next morning to spectacular views and delicious breakfast prepared just for you.
Our villas offer the perfect luxury getaway for your group. Contact us today to learn more about our properties, all the amenities we offer and the ways we can help you plan your trip.