10 Reasons to Have Your Luxury Wedding in Costa Rica
May 7, 2020
Villa Punto de Vista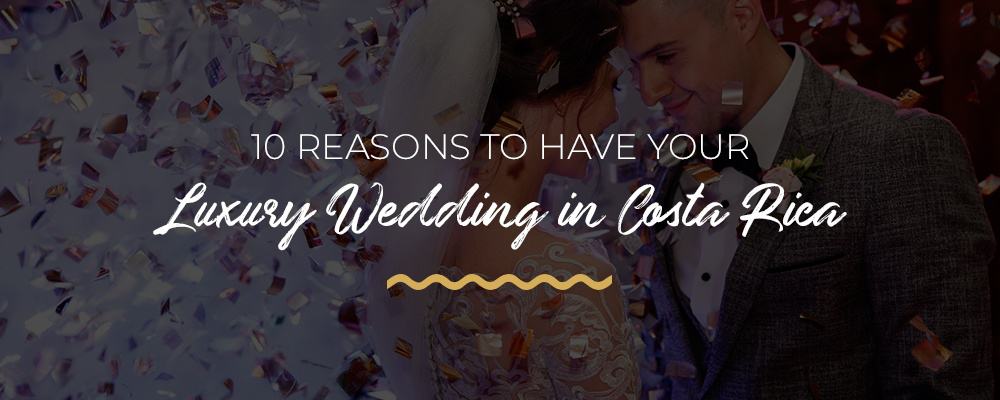 A Costa Rican destination wedding is beyond the ordinary. The country's unparalleled ambiance blends lush jungles, picture-perfect beaches and model weather with five-star villa resorts servicing fairytale weddings in what can only be called a tropical paradise. There are dozens of reasons to select Costa Rica for your truly unforgettable luxury wedding day — here are just the top ten.
Why Have a Destination Wedding in Costa Rica?
Costa Rica delivers an unrivaled mix of natural and curated amenities, propelling wedding days past your highest expectations. Here are ten reasons why Costa Rica should be at the top of your destination wedding locale list:
1. Mother Nature at Her Finest
It's as if Costa Rica was made to provide a breathtaking backdrop for your big day. Opulent green jungles grow parallel to soft, white-sand beaches so pristine, you'll think you discovered them. Then add the rich biodiversity of tropical flowers, succulents, shrubbery and fruiting plants sprinkled across every possible sightline. Keep your eyes peeled for wildlife, too. Nestled between palm trees and jungle brush are sloths, iguanas, parrots, toucans, anteaters and monkeys galore — the only photo-bombers allowed on your special day.
2. Pristine Weather
Costa Rica has two primary seasons: the high season and the green season. The high season — approximately December to May — is characterized by a warm, dry and temperate climate, whereas the green season — approximately June to November — can experiences rainfall, typically in the afternoon but spectacular morning for the majority of the season. However, Costa Rica doesn't know the meaning of winter. Even in its coolest months, temperatures rarely dip below 75 degrees Fahrenheit due to the country's proximity to the equator. Year-round, expect temperatures in the High -70s to low 80s, creating idyllic wedding-day weather.

3. Breathtaking Ocean Panoramas
The deep turquoise, navies and blues of the Costa Rican oceanside inspire romance unlike any other. Have your ceremony and reception set against the tunes of gently rolling ocean waves with the sun glistening off the tides — and guests awed by the ambiance.
4. Travel Convenience
Costa Rica is one of the most accessible countries to travel to in all of Central America. Steady streams of direct flights from major U.S. airports means simplified wedding planning and preparation. With Miami only 2 hours and 45 minutes away, Dallas only 3.5 hours away and Atlanta no more than 4 hours, it's incredibly fast to get to Costa Rica! Costa Rica's relative travel ease also ensures maximum guest attendance, so you can celebrate alongside your nearest and dearest.
5. The Ideal Level of Intimacy
Whatever the size of your invite list, Costa Rica provides an intimate and indulgent vacation setting for all. Guests are pampered with the sunshine and surf while you share in one of the most important days of your life, all catered within an equally upscale and unforgettable jungle or beach-side reprieve. Costa Rica is far from the cookie-cutter touristic hot spots you'll find elsewhere around the world. In this beautiful country, the towns are small and filled with warm-hearted residents, the beaches can sometimes be completely private, and everything from the flora to the food create an authentic Pura Vida experience.
6. Bucket-List-Worthy Adventures
Setting your destination wedding in Costa Rica lets you turn your wedding into a weekend of heart-pumping, one-of-a-kind activities that you can finally cross off your bucket list. Double-dip into romance and adventure with dozens of thrilling experiences uniquely Costa Rican, including:
Zip-lining
Surfing
Jungle hikes
Hidden waterfall hunts
World-class sport fishing
ATVing
Ocean kayaking
Whitewater rafting
Mountain and volcano climbing
Horseback riding
Wildlife eco-tours
Exploring renowned Manuel Antonio National Park
Unlike many destinations across the globe, Costa Rica is an adventure and eco Mecca with easy access to activities for everyone. And because of the geographic makeup of a town like Manuel Antonio, you can be in the midst of the jungle while still being no further than half an hour from all the best activities. Not having to waste a ton of time in transportation to and from different adventures will make your stay in Costa Rica much sweeter for you and your guests!
7. A Foodie's Paradise
Costa Rican cuisine is a sumptuous expression of the country's blended culture, history and rich, dynamic climate. Indulge in fine dining with a farm-to-table ethos. Costa Rica's weather also supports year-round fresh produce. Have your wedding cake prepared using chocolate ethically sourced from local cacao farms. Serve wedding guests refreshing cocktails mixed with regional tropical fruits. Center true farm-to-table fare for your wedding feast, featuring both familiar and exotic items pleasing any palate.
8. Stunning Sunscapes
Costa Rican sunrises and sunsets make a beguiling wedding background you must see to believe. Time your wedding against a rainbow sky, with golden-hour light basking your ceremony — you're sure to set the scene for some truly stunning wedding photography.
9. Simplified Logistics
A destination wedding involves a few extra logistics, namely validating your marriage license back in the United States. Costa Rica maintains one of the easiest and most straightforward validation processes of any major international wedding destination. Plus, to get married in Costa Rica as a foreigner, you and your fiancée need to only submit valid passports and proof of your legally certified officiant. Compared to other destination wedding hotspots, the marriage certification process is straightforward, expedient and often liaised with help from your wedding venue or planner in Costa Rica.

10. Pura Vida Perfection
"Pura Vida" is the unofficial motto of Costa Rica, meaning the "good life" — and the good life is exactly what you'll immerse yourself in by choosing a Costa Rican destination wedding. There's the idyllic weather, the dazzling scenery, the inspiring aqua ocean waters, abundant beaches and vibrant tropical flora. Yet Pura Vida encompasses so much more, including the relaxed philosophy guiding the pace of life for locals and tourists alike. Let Pura Vida seep into your celebration, enriching the storybook setting of your love story.
Get a Quote for Your Costa Rica Destination Wedding
Villa Punto de Vista Estate is the premier Costa Rican wedding destination for you to commemorate your love story.As the largest beachfront estate in the country, our 2.5-acre reserve blends luxury resort accommodations with boutique hotel amenities across two private, award-winning villas. This, plus our exclusive panoramic venue spaces facing the pristine Manuel Antonio Bay, can accommodate celebrations of up to 50 overnight guests and 100 total wedding attendees — all in a fully staffed setting featured in Condé Nast Johansens, Forbes.com, Architectural Digest and more. Experience why WeddingWire awarded Villa Punto de Vista Estate its Couples Choice Awards five times in a row and why our estate is Costa Rica's highest-rated wedding villa in the entire nation. Inquire about Villa Punto de Vista Estate's wedding venue today. You can also get inspired by real-life fairytales that took place on our estate, browsing our wedding event gallery to see how we bring the extraordinary to life. We can't wait to do the same for you.