Need-To-Know Information for Americans Getting Married in Costa Rica
September 27, 2021
Villa Punto de Vista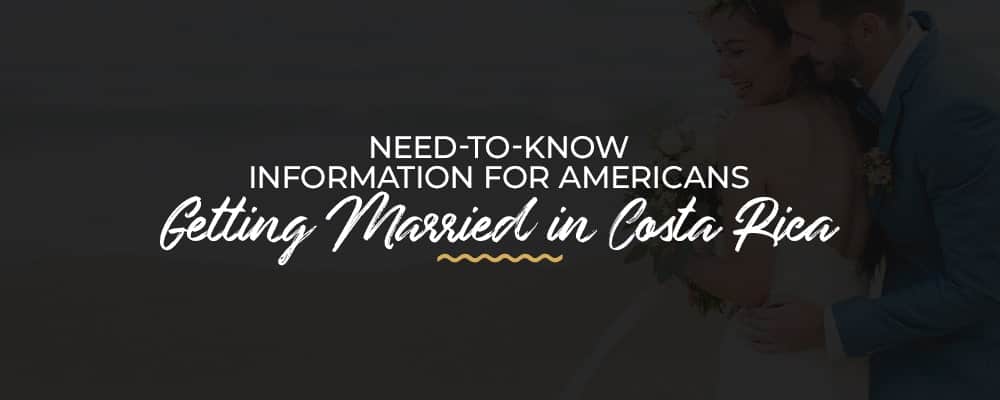 With its dazzling beaches and lush jungles, it's no wonder that Costa Rica attracts 1.7 million tourists each year. Some American visitors come to Costa Rica for more than a typical vacation — they choose this tropical paradise as the place to say their "I do's." . Just imagine pledging your love to your partner with a backdrop of sparkling waters, vibrant rainforests, a majestic mountain range or all of the above.
Planning a wedding is often a significant undertaking, and a destination wedding typically comes with additional layers of planning. However, getting married in Costa Rica can be a fairly simple process, and it's sure to be a memorable experience. If you're wondering how to get married in Costa Rica, we have the answers. There are just a few logistics you'll need to know in advance.
Can U.S. Citizens Marry in Costa Rica?
Costa Rica welcomes international visitors, including Americans, to get married in the country. All you need to do is follow the same laws Costa Ricans must follow to get married in the country. Your marriage will be legal in Costa Rica and will be internationally recognized.
After getting your marriage certificate in Costa Rica, an official translated version will be sent to the U.S. Embassy's Consular Section. You should receive your U.S. marriage certificate just a few months after your wedding. You can then take it to a local government building to be registered. Overall, the process is relatively straightforward, and you can be sure your wedding in Costa Rica is just as valid a start to your marriage as a wedding in the U.S. would be.
What Travel Arrangements Do I Need to Make?
Costa Rica is just under 20,000 square miles, which is slightly smaller than the U.S. state of West Virginia. Even though the country is relatively small, it boasts two international airports. The largest international airport is Juan Santamaría International Airport (SJO), which is located in the Central Valley near the nation's capital of San José. Daniel Oduber Quiros International Airport (LIR) is located in Liberia, a city in the Guanacaste Province. Many cities in the U.S., including New York, Miami, Orlando, Chicago, Los Angeles, Atlanta, Houston, Denver, Charlotte and many more, have direct flights to Costa Rica.
Costa Rica is known for being a friendly country with a neighborly disposition toward tourists. To enjoy a smooth entry into the country, all you need is a passport that will remain valid through 6 months past your stay and a return ticket or proof that you plan to travel to another country at the conclusion of your stay in Costa Rica. There is no need for a tourist visa.
When you arrive at the airport, you will need to arrange for transportation to your resort or hotel. If you stay at the Villa Punto de Vista Estate, we can arrange for an experienced, bilingual chauffeur to be waiting for you with a private luxury van. You can also fly closer to the villa by taking a regional flight from SJO to the Quepos Regional Airport. Costa Rica has 27 regional airports, so once you're in the country, you can opt to travel by air from destination to destination.

When Is the Best Time for a Costa Rica Wedding?
Costa Rica is beautiful year-round, but if you're trying to decide when to go, you should consider the seasonal changes in the climate. Costa Rica has two alternating seasons:
The High Season: The High Season, also referred to as the Dry Season, lasts from late November to May in most regions. If you're planning an outdoor ceremony, you have a better chance of enjoying sunshine and dry weather throughout the day during these months. In the Northern Pacific Coast, this season can result in dry, dusty, parched conditions. However, other regions — like the Central Pacific Coast, where the Villa Punto de Vista Estate is located — remain richly green year-round, even during the Dry Season.
The Green Season: During the first four months of the Green Season, rain is a little more likely, but mornings and early afternoons will often be sunny. September and October are the rainiest months, so if you get married around this time, you may want to plan on hosting your wedding indoors or in a covered open-air venue where you and your guests may get to enjoy the ambiance of a rainforest shower while staying dry.
Reserve Your Green Season Wedding
Where Can I Get Married in Costa Rica?
There are numerous options for wedding venues in Costa Rica. Consider getting married in one of these locations:
Church: Religious ceremonies in Costa Rica can take place in a Catholic church. You must coordinate with a local priest and ensure you meet their religious requirements to have your wedding there.
Indoor event space: If you want to get married indoors, you can book a ballroom or social space that is large enough to accommodate your guest list. The most convenient option is to have guests stay at a hotel or private villa that can double as your wedding venue.
Deck or terrace: If you prefer to get married in the open air, you may want to celebrate your union on a deck or a terrace. These locations can provide indoor amenities like a bar and overhead covering while still allowing you to enjoy an outdoor ambiance.
Beach or rainforest: If you want to fully capitalize on the tropical location, consider getting married in a natural setting like the beach or rainforest. Keep in mind that outdoor ceremonies or receptions require a bit more setup and may be subject to weather.
At the Villa Punto de Vista Estate, you can choose both indoor and outdoor locations for your event, allowing you to enjoy the perks of both. You can even enjoy a beach ceremony, for example, and host your reception on our beautiful rooftop terrace or in our exquisite ballroom.
In addition to serving as the ideal location for your wedding, Costa Rica doubles as the perfect honeymoon spot. Choose a wedding location in the country that also provides convenient access to the breathtaking sites and activities you want to enjoy after the wedding.
How Do I Find Wedding Vendors?
Choosing vendors is one of the most important aspects of wedding planning. Though Costa Rica is home to many reputable wedding vendors, selecting the very best is essential to ensure your wedding lives up to or exceeds your hopes for your big day. You may choose to bring some professionals with you, such as your photographer — who is sure to appreciate the chance to capture the breathtaking scenes of your romance playing out in one of the most beautiful places on earth.
You can also hire an excellent photographer right here in Costa Rica, as well as a local videographer, caterer, baker and anyone else you need to create the wedding of your dreams. Americans getting married in Costa Rica will appreciate that English is widely spoken throughout the country, so you're likely to find a vendor who can easily communicate with you throughout the planning process.
As with a local wedding, you can play as big or small a part in the planning of your destination wedding as you wish. In order to simplify the process and take pressure off of your shoulders, we recommend selecting a place to stay in Costa Rica that can also serve as your venue and provide access to the best wedding planning services and vendors.
Work With Our Trusted Wedding Partners
At Villa Punto de Vista Estate, we can connect you with our trusted partners, who are the best of the best. They have plenty of experience serving couples at the Villas and the expertise needed to bring your vision to life, so you can just relax and enjoy the magic of the day. For more advice on planning your destination wedding in Costa Rica, take a look at our detailed guide.

How Does the Legal Process Work?
As the U.S. Bureau of Consular Affairs points out, marrying overseas can entail a complicated process that is both time-consuming and expensive. It doesn't have to, though, if you choose to get married in Costa Rica. With a destination wedding, legalities can often be a source of anxiety. After all, you want to make sure your marriage is legal in your home country.
In Costa Rica, the legal paperwork for marriages is relatively straightforward. You don't have to deal with blood tests or waiting periods. In fact, you don't even need to apply for a marriage license either at home or in Costa Rica. With just a little planning, you can make sure you fulfill the legal requirements to make your marriage count both in Costa Rica and at home.
Here are seven factors to consider to understand how to get married in Costa Rica.
1. Complete an Application
At least one month before your wedding ceremony, you should complete a form that will ask you to list relevant identifying information for you and your partner, such as your dates of birth — you need to be at least 18 years old — address(es), parents' names, etc. You'll also need to send scans of your passports. This step in the process is similar to applying for a marriage license in the U.S.
If you have been married before, that adds one more element to your paperwork. Make sure your attorney knows of any previous marriage, and note the required information, such as your previous spouse's name and the court where your divorce was decreed.
The attorney you have chosen to work with in Costa Rica will take your completed form and submit the document as a sworn statement.
2. Partner With a Qualified Officiant
You must choose an officiant who has the legal authority to sanction your wedding in Costa Rica. There are a few options to choose from, depending on the type of ceremony you want to have:
Civil ceremonies: In Costa Rica, a lawyer or judge must officiate civil ceremonies. If you and your guests do not speak Spanish, you'll want to hire a lawyer who can conduct your ceremony and provide an attorney's protocol — a document you must sign on your wedding day — in English. You should also look for a lawyer who has some experience officiating weddings.
Catholic ceremonies: Religious ceremonies in Costa Rica must take place in a Catholic church, and a priest must officiate them. Both you and your partner must be confirmed Catholics, and you'll need to fulfill the church's requirements, which may include premarital classes. Also keep in mind that most priests are used to conducting ceremonies in Spanish.
Other religious ceremonies: In Costa Rica, technically, any wedding that a Catholic priest does not officiate is considered a civil ceremony. If you want a faith-based ceremony but aren't Catholic, consider having a lawyer on-site to legalize your marriage but allowing another person of your choosing to officiate the wedding. This person could be a minister, friend or relative.
After the ceremony, your officiant will take care of filing all the necessary documents for you to obtain your marriage certificate.

3. Have Two Witnesses Present
Costa Rica marriage requirements specify that you must have two witnesses in attendance at your wedding ceremony who are not relatives. If you plan to invite friends to attend your wedding, then you'll automatically fulfill this requirement — just make sure your witnesses have their passports on-hand as a form of identification.
If you're planning to have a private ceremony with no guests or just close family, you may need to enlist the help of locals who can act as your official witnesses. Your wedding planner or venue in Costa Rica should be able to help you with this task. If your witnesses are Costa Rican citizens, they'll need to have their cédulas on hand to identify themselves. Your official witnesses will sign your marriage statement along with your attorney, you and your spouse.

4. Register Your Marriage in the U.S.
After your wedding, your attorney will take care of submitting your paperwork to the Costa Rican Civil Registry, who will process it and issue your marriage certificate. For your marriage to be valid in the United States, your license will be translated, authenticated by the Ministry of Foreign Relations in Costa Rica, notarized and, finally, sent to the U.S. Embassy's Consular Section. Here, it will be authenticated and signed. This process ensures that your marriage will be legal at home.
You should receive your certificate in the mail at your residence in the U.S. after about three months. At this point, you should take it to be registered in your city. Search online or call your local municipality to find out exactly where you should submit your certificate, as this differs from place to place. Marriages conducted in Costa Rica are internationally recognized, so you shouldn't run into any problems getting your marriage certificate registered.
5. If Desired, Change Your Name
In Costa Rica, women do not change their name when they marry. Your and your partner's names will be printed as they appear on your passports on all your marriage documentation in Costa Rica. If you want to change your legal name, you can take care of this back in the U.S.
This process will be the same as it would have been had your wedding taken place at home. Even when you get married in the U.S. and list your married name on the certificate, you still have to go through the steps to officially change your name on your Social Security card, driver's license, bank account and more. Alternatively, you can pay for a service to streamline the process and take care of changing your name for all your IDs and accounts.
Reserve Your Private Wedding Villa
Why Costa Rica Is the Perfect Location to Start Your Marriage
Costa Rica has so much to offer as a wedding destination. Nowhere else will you encounter the same mesmerizing sites and variety of activities. You may want to choose Costa Rica for your destination wedding because of the country's:
The Beauty: If you love nature, you cannot pass up the opportunity to take in the beauty of Costa Rica's many distinct ecological zones and a high level of biodiversity. Volcanoes, rainforests, waterfalls, beaches — Costa Rica has it all. Your guests won't have to choose between a "beach vacation" and a "mountain vacation." Instead, they can enjoy all the diverse landscapes Costa Rica has to offer and focus on the places they love best. You can also take advantage of these locations by snapping some unforgettable wedding photos.
The Wildlife: Costa Rica is home to more than 500,000 different species, making it the ideal location for anyone who enjoys wildlife. Depending on where you explore, you could see exotic animals such as sloths, four species of monkeys, tree frogs, toucans, parrots and more. During whale-watching season — September and October — you can typically spot a whole host of whales off the coast. Seeing animals in their natural habitat is an experience that no zoo or aquarium can match.

The Activities:One of the uniquely wonderful aspects of a destination wedding in Costa Rica is that your wedding is combined with an adventurous vacation. There is no shortage of activities to entertain you and your guests. Ziplining is one of the most popular activities in the country. You can also enjoy other outdoor activities like horseback riding, hiking, scuba diving, sport fishing, surfing or rafting. If you want to relax, recharge by soaking up the sun at the beach or treating yourself to a spa day.
The Luxury: If you're looking for a luxurious experience, Costa Rica is the perfect destination. Just imagine waking up to a fresh gourmet breakfast and tropical champagne mimosa. Then, you can spend your days enjoying all manner of activities. Get a deep-tissue massage or enjoy the sumptuous tastes of the famed local coffee and chocolates on a tasting tour.
The Simplicity: Costa Rica may feel like a remote paradise, but it's easy to get to and, once you're there, it's easy to get married. Whereas some countries may require a great deal of paperwork and blood tests, Costa Rica's marriage requirements are quite simple, and you can easily fulfill them with the help of a local attorney.

Host Your Special Day at the Villa Punto de Vista Estate
If you're looking for a stunning venue for your wedding in Costa Rica, take a moment to learn more about the exquisite accommodations we offer at Villa Punto de Vista Estate. If you have any questions about getting married in Costa Rica or about our venue options, contact us today. We're happy to answer your questions and help you on your journey to have the destination wedding of your dreams.