Destination Wedding Quiz — Where Should You Have Your Destination Wedding?
October 12, 2021
Villa Punto de Vista
If you want to have a destination wedding, you're in good company — a quarter of all weddings are now classified as destination weddings. The decision to have a destination wedding is the first step, but then you need to ask yourself, "Where should I have my destination wedding?" This question can feel overwhelming considering the number of options out there. Our destination wedding location quiz can help you think through some of the best settings for destination weddings so you can determine which option is the perfect fit for you.
Should I Get Married on the Beach?
Considering a beach wedding? Answer true or false for the following statements. Then, total up the number of true answers to see your score:
I think traditional weddings feel a bit stuffy and would love something more laid-back.
I'm not worried about sound quality for a recording — I would rather just be in the moment.
I'm happiest when I'm soaking up some rays on the beach.
I love the ambiance of seaside sounds like crashing waves and gulls overhead.
I think light, airy wedding dresses are the most romantic style.
As long as I have a Plan B in case of inclement weather, I like the idea of having an outdoor wedding.
I think the ocean would make the most beautiful backdrop for my wedding photos.
The thought of sand between my toes and hair fluttering in the salty sea breeze makes me smile.
If you and your partner answered "true" to at least five of the eight statements above, a beach wedding may be a great option for you to consider. If seven or eight of those statements are true for you, a beach wedding should ascend to the top of your list!
Beach weddings tend to feel more casual than traditional weddings. Many brides wear sandals or even go barefoot and choose light, flowy fabrics for their dresses. You can even opt to forgo any decorations, only setting up chairs for your guests, since the natural environment provides all the beauty you need. Some couples do choose a more formal style for their beach wedding. They may create an elaborate ceremony setup on the beach, including an archway, flower petal-covered aisle, candle or Tiki torch stands and more.
You can tailor a beach wedding to your personal style, whatever that style looks like. If you want to get married on the beach, choose a beach that you can be sure will look pristine on your wedding day, and opt for a private beach instead of a public one so there are no distractions or intrusions from strangers.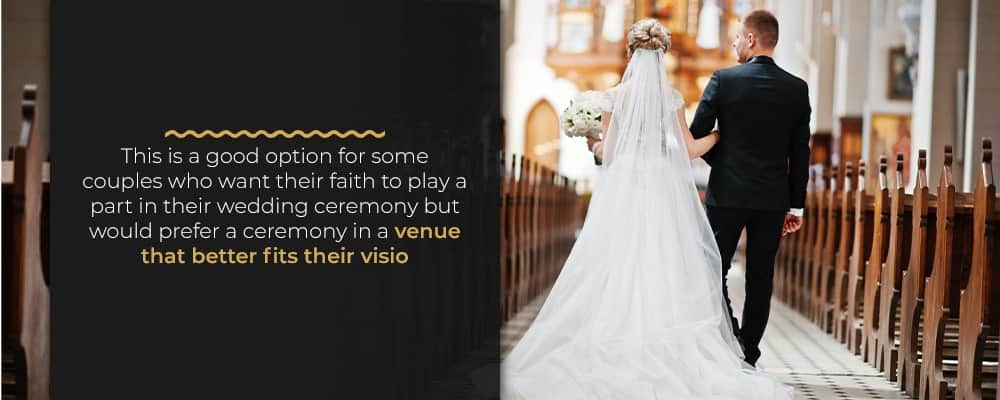 Should I Get Married in a House of Worship?
If you're considering a destination wedding at a church, synagogue or other house of worship, see how many of these statements are true for you:
My faith is very important to me and is central to my relationship with my partner.
I like the idea of a traditional wedding and wouldn't mind following a prescribed series of events and reciting traditional vows.
I want an indoor ceremony so I have more control over the environment.
Architectural details like archways and stained glass are my idea of a dreamy wedding backdrop.
I would be willing to meet with a minister in order to get their blessing to be married in the church.
It would mean a lot to my family to incorporate religious traditions into my wedding ceremony.
I know of a specific church, chapel or temple in another state or country that I would love to get married in.
I am a confirmed church member who would be allowed to marry in another house of worship within my faith tradition or denomination.
If you agreed with five or more of the statements above, a church wedding may be the right option for you. Generally, church weddings — particularly destination weddings that involve a church you haven't attended — require you to give up some control over the aesthetic and direction of the ceremony and involve some factors you don't have to plan around in other destinations. However, these complications are worth it to couples who can't imagine getting married anywhere else.
Keep in mind you can still have a faith-based ceremony in a location outside the church. This is a good option for some couples who want their faith to play a part in their wedding ceremony but would prefer a ceremony in a venue that better fits their vision.
Should I Get Married in a Laid-Back or Formal Setting?
If you're a nature-lover, you may want to consider a laid-back wedding with some touches of luxury. See how many of these statements are true for you:
I love the idea of a wedding that feels secluded and tucked away from the rest of the world.
No music could match the ambiance of being surrounded by wildlife sounds, like birdsongs.
Hiking and exploring the outdoors are some of my and my partner's favorite activities.
I want to get married in a setting that feels magical or otherworldly.
Natural, lush greenery is the most beautiful backdrop I can imagine for my ceremony.
It wouldn't ruin the experience if a rain shower occurred — it would just make for a fun memory and some cool pictures.
If some butterflies or exotic animals were in attendance at my wedding, it would make my day.
I don't need lots of lights or speakers — an unplugged wedding ceremony suits me.
Did five or more of these statements resonate with you? If so, you should consider tying the knot in a laid-back scenery. These settings vary dramatically depending on where you travel to. The best part is that you can certainly add touches of luxury and details depending on the venue you and your partner pick. The best part is you can decide on laid-back, formal or a combination of these. Consider the best of both worlds, laid-back environment surrounded by nature while still being able to enjoy phenomenal service and luxurious touches.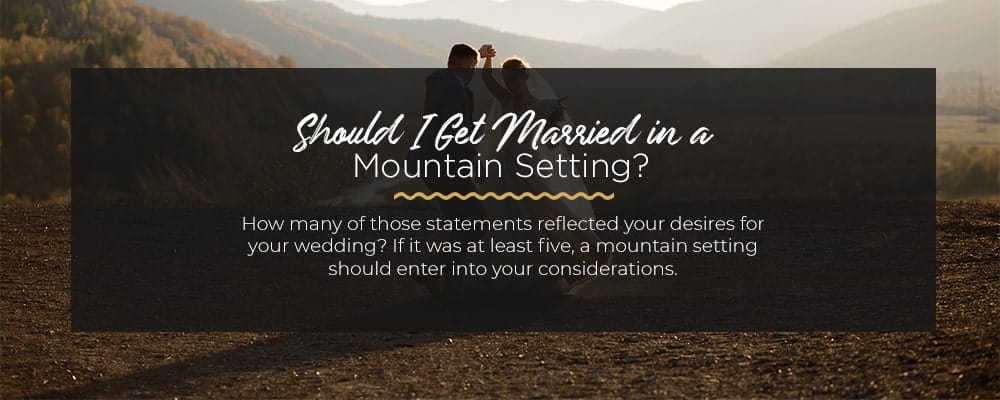 Should I Get Married in a Mountain or Forest Setting?
Next up in our wedding destination quiz is a mountain setting. Tally up how many of the following statements are true for you:
I want my wedding location to be majestic.
I want to get married outdoors but in an area that feels open and sprawling, not boxed in and secluded.
Getting some jaw-dropping photos is one of my top priorities for my wedding.
To me, no church or ballroom could match the striking beauty of nature.
I like the idea of getting married in the open air — if the weather is an issue, I would just have a Plan B.
My partner and I love hiking or driving to find the best views.
I feel most at peace or in awe when I'm looking up at a mountain.
I don't settle for ordinary — I'm looking for something truly unique for my wedding.
How many of those statements reflected your desires for your wedding? If it was at least five, a mountain or forest setting should enter into your considerations. Mountain and forest settings all have one thing in common — they're majestic and awe-inspiring. Beyond that, there are some very different types of settings you can consider.
If you want a more exotic setting that differs from what you're used to at home, consider getting married in a tropical rainforest. This makes rainforests easier to traverse. In a tropical jungle or rainforest, you can get married amidst some amazing sights and sounds. You and your guests will remember this experience for years to come.
Should I Get Married in a Pastoral Setting?
Another type of natural setting to consider is a pastoral setting. This category includes ranches, farms, vineyards and country gardens. See if any of these statements are true for you:
I love nature, but I prefer a manicured landscape over a wild setting.
A rural setting feels idyllic and like the perfect romantic escape from city life.
My partner and I, along with our guests, would enjoy learning about a farm's operations through agrotourism.
A plantation with indoor spaces and outdoor spaces would be the perfect setup for me.
Getting to pet animals and take pictures with them would make my wedding day a more fun experience.
I enjoy the rustic or "cottagecore" aesthetic trend in wedding design.
I'm looking for an open field where I can set up a tent for a hybrid indoor and outdoor experience.
Enjoying fare, such as wine or fruit, that is grown right on-site would enhance the dining experience at my reception.
If five or more of those statements were true for you, then you may want to consider a pastoral setting. These settings are quite popular with modern couples. Barns and farms were the most popular wedding venue type in 2020. Countryside settings like vineyards are timeless and can allow you to enjoy an outdoor wedding in a more controlled environment, especially if the venue includes an indoor location.
Today, some farms, vineyards and botanical gardens market themselves as wedding venues, so they likely have more logistics in place than some other outdoor locations might, including ample parking and accessibility. They may also have equipment and furnishings on-site and, if not, will be used to receiving deliveries from rental companies. Overall, a pastoral setting can give you that idyllic nature feel along with a bit more structure. Keep in mind that these settings aren't typically the best choice if you're looking for something more out of the ordinary.
Should I Get Married in a Private Villa?
Finally in our quiz on destination wedding locations, we're looking at a private villa. Do any of these statements ring true for you and your partner?:
I would like to get married on an estate that offers both indoor and outdoor venue settings.
It would be a great bonding experience if my family and friends could all stay together under one roof during the duration of the trip.
I would like privacy for my special day and would prefer not to share a building with another event taking place or other guests.
I love the idea of a stress-free experience where I can stay in the same place where my wedding will be — no complicated travel logistics.
Incredible natural landscapes and impressive architecture make the perfect combination.
I would love having staff on-site who are solely focused on me and my guests during my wedding and throughout our stay.
I want to spend a fair amount of time at my venue leading up to the wedding rather than just for a rehearsal dinner and wedding day.
I would like to be free to choose my preferred vendors and to have a place to stay on-site for any vendors who travel with me.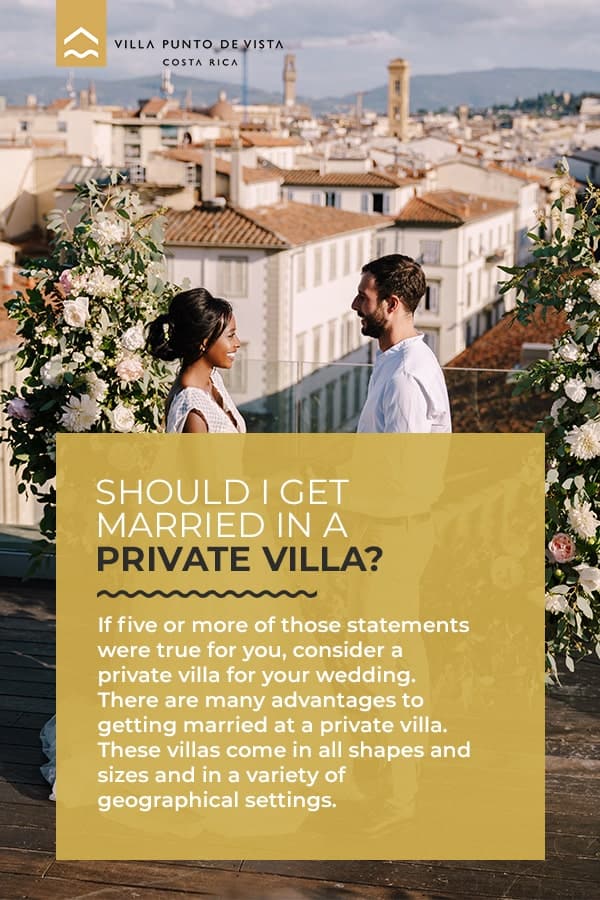 If five or more of those statements were true for you, consider a private villa for your wedding. There are many advantages to getting married at a private villa. These villas come in all shapes and sizes and in a variety of geographical settings. What they all have in common is privacy — you don't need to share the building with other hotel guests or events taking place. Instead, the space and the staff are committed to your comfort and enjoyment and no one else's.
If you want to go with this option for your destination wedding, be sure to find a property that is accustomed to hosting weddings and is set up well for it. At Villa Punto de Vista Estate, many of our guests choose to stay with us so they can host their special day on our gorgeous estate. In partnership with your vendors, we have the expertise and amenities needed to make dream weddings a reality.
Even if you want to host your wedding in a jungle, vineyard, mountain setting or any of the other destinations we looked at, consider renting a private villa for your stay. Rather than blocking off rooms at a hotel, reserving a private villa for your wedding party and close friends and family can make the whole experience more personal and can help you create lasting memories together.
Enjoy Your Perfect Destination Wedding at Villa Punto de Vista Estate
Determining where you should get married abroad is the most crucial step in your destination wedding planning. See which of the settings in this quiz best fits your dream wedding and find a locale that offers that setting. For nearly every setting we looked at, Costa Rica is an excellent choice. Here's a short Costa Rica wedding quiz:
Do you want your destination wedding in a tropical paradise with stunning views at every turn?
Do you want to have a variety of natural settings and beautiful indoor settings to choose from for your ceremony and reception?
Do you want you and your guests to have an endless list of activities to enjoy before and after the wedding?
Do you want beautiful, warm weather even during the winter months?
If so, Costa Rica is your perfect destination wedding location! If you're heading to Costa Rica to start this exciting new chapter in your life, consider staying and hosting your wedding at the Villa Punto de Vista Estate. Our two private villas and the entire estate was created with weddings and other events in mind, so you can expect an unmatched experience of privacy and luxury for your destination wedding when you stay with us.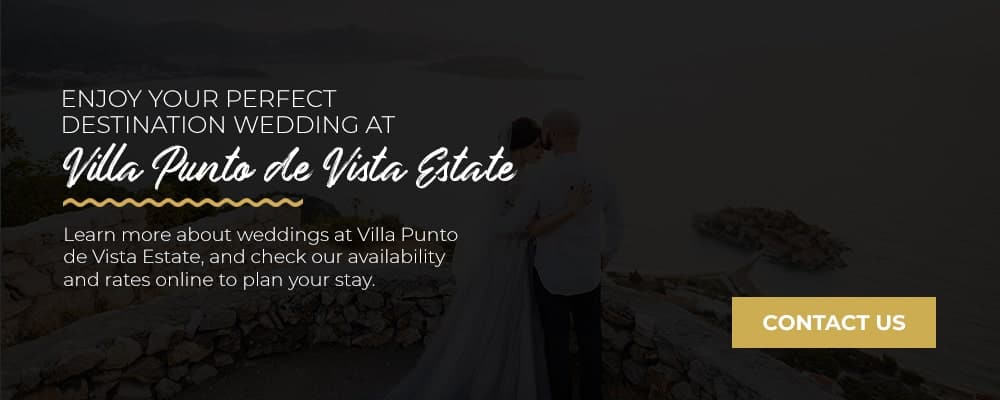 Learn more about weddings at Villa Punto de Vista Estate, and check our availability and rates online to plan your stay.