10 Reasons to Choose a Private Luxury Villa for Your Wedding
July 28, 2020
Villa Punto de Vista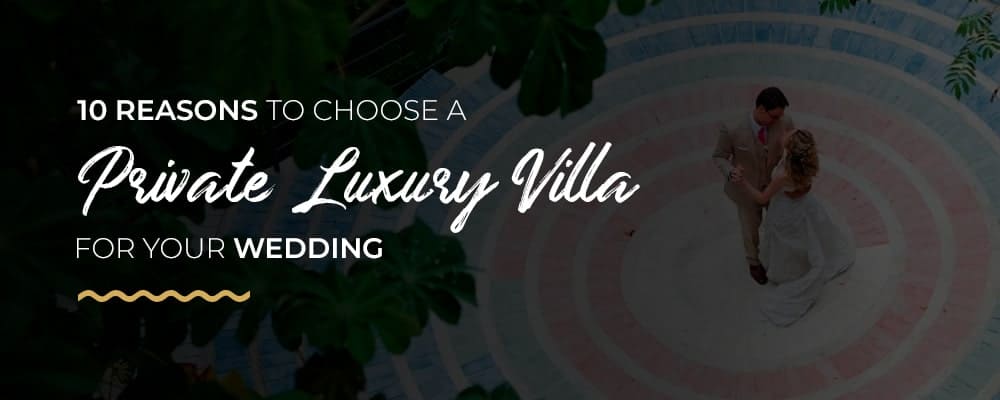 Perhaps the biggest decision you'll make in planning your wedding is selecting your venue. Having the wedding of your dream starts with choosing the perfect backdrop for the occasion. Some couples are overwhelmed by all the options. If you want a venue that is unique and breathtaking, you may want to look at wedding villa rentals. Take a moment to consider these reasons why a private luxury villa is the ideal choice for your wedding.
1. Complete Privacy
Your special day and the days that lead up to it should feel like an intimate experience. It's hard to achieve this level of intimacy when you're in a shared space, such as a hotel or large wedding venue with multiple weddings happening at once. At a private villa, you have the entire space to yourself. You, your beloved and your guests can enjoy an experience that's far more comfortable and private than it would be in many other venues.
2. Streamlined Simplicity
For many couples, planning their wedding involves finding a venue for their ceremony, a venue for their reception and a hotel where their guests can stay. With villa weddings, you can combine these functions into one location. This greatly simplifies planning and logistics. Your guests have a convenient place to stay, and they can enjoy all the wedding festivities right there. This reduces the need for transportation and gives you more latitude to enjoy the experience, free of unnecessary stress and complications.
3. Indoor and Outdoor Space
Many couples long for a dreamy outdoor ceremony or reception. Breeze, sunshine, sand, lush greenery or a starlit sky can infuse your day with even more magic. A private villa can offer both beautiful indoor and outdoor spaces, giving you versatile options for your wedding day. For example, you could get married on the beach and have your reception inside the villa's ballroom or on the event terrace. There are endless combinations, and you can even change your plans if needed based on the weather forecast.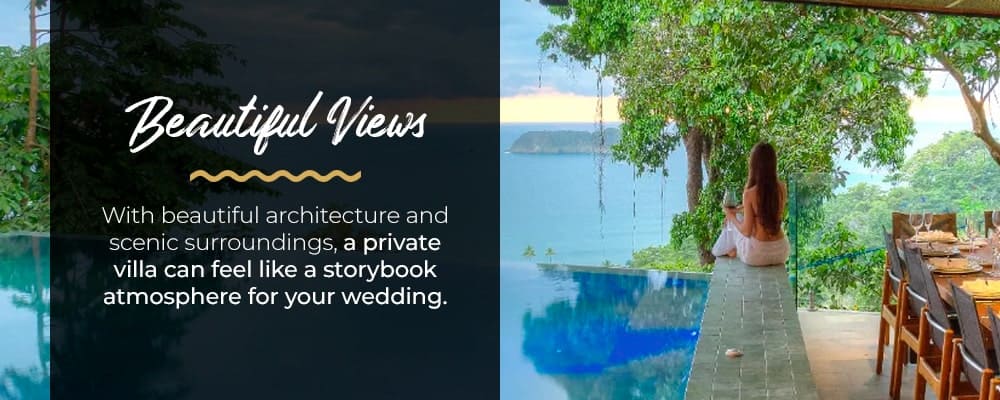 4. Beautiful Views
Who doesn't want to get married in a place with stunning views? With stunning architecture and scenic surroundings, a private villa can feel like a storybook atmosphere for your wedding. Your photographer won't have to search for good photo backdrops since you'll be surrounded by photo-ready landscapes like gardens, vineyards or beaches. Unlike a hotel right off the highway, a private villa is far more likely to offer your guests picturesque views of the landscape and sunrise right outside of their rooms.
5. Unique Venue Option
If you've attended a lot of weddings, you may have picked up on some similarities from wedding to wedding. You may have even attended multiple weddings at the same venue. According to Wedding Wire, banquet halls are currently the most popular option for wedding receptions, followed by barns or farms. Your wedding should feel just as unique as you and the love you're celebrating, so choose something out of the ordinary. That's exactly what you get when you select a private villa as your wedding venue.
6. Committed Staff
When you rent a private villa for you and your guests, you have the whole place to yourselves. That also means you have the full attention of the staff. Housekeepers, chefs, the concierge and any other members of the staff are completely committed to helping you have an excellent stay and experience. Imagine sipping signature cocktails by the pool or enjoying a delicious, made-to-order breakfast. You can indulge in some amazing amenities when you choose a private villa with staff ready to ensure your comfort and happiness.
7. Freedom and Control
Many wedding venues, including banquet halls, country clubs and hotels, box you into using certain vendors, especially when it comes to catering. If there's an on-site caterer, you may not have the option to choose your preferred caterer for your wedding. If you would rather have more freedom to choose vendors that suit your taste, you're more likely to get that freedom and control with a private villa. The event planner or concierge on staff can make helpful recommendations, but you make the final call.
8. Luxurious Experience
What do you think of when you imagine the most luxurious getaway? Maybe it's soaking in a dazzling infinity pool surrounded by captivating scenery, or maybe it's sipping on mimosas as you enjoy a sumptuous breakfast in the sunshine. Whatever your idea of luxury is, you can incorporate that into your wedding when you choose a private villa that offers the amenities you long for. If there is ever a time to indulge yourself, it's your wedding, so choose a place that will turn your fantasy into reality.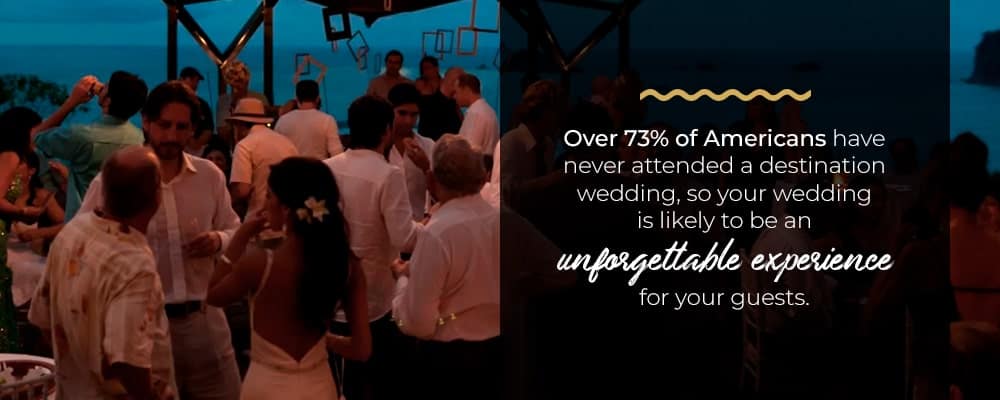 9. Unforgettable Vacation for Your Guests
One of the wonderful things about having a private villa wedding is that it's more than a wedding — it's a vacation. Over 73% of Americans have never attended a destination wedding, so your wedding is likely to be an unforgettable experience for your guests. They'll make memories to last a lifetime as they enjoy their stay at the villa and take advantage of the fun activities and tourist attractions nearby. This is especially true when you choose a villa in an exotic location, such as Costa Rica.
10. You Can Enjoy Your Honeymoon On-Site
Your honeymoon is the perfect opportunity to celebrate your new union and relax after all that wedding planning. For most couples, planning the honeymoon is a big task complete with its own complications and stress. When you have a destination wedding at a private villa, you can skip the logistics involved with getting to your honeymoon location and arranging for accommodations there. Instead, you can stay in place and enjoy private time together and time with your family and friends if you want.
Enjoy an Unforgettable Wedding in a Private Costa Rica Villa
If you want to enjoy all the advantages of a villa wedding venue, consider booking one of our amazing villas located in gorgeous Costa Rica. Villa Punto de Vista Estate villas are perfect for your destination wedding. You and your guests will have exclusive access to the villa property, making for an intimate experience. You can tie the knot and celebrate together in one of many locations on-site and make sure every detail is exactly as you imagined. Check our availability and rates online to reserve your dream venue today.