Costa Rica With Kids: One Week Itinerary
February 17, 2020
Villa Punto de Vista
A family vacation is an opportunity to get away from the hustle and bustle of everyday life and spend quality time with the people you love most. When you're traveling with young children, you may feel like your options for an exciting yet relaxing getaway are limited. Although you might not think of Costa Rica when you think "family vacation," the country offers plenty of opportunities to create memories with your family that will last a lifetime.
At Villa Punto de Vista, we provide our guests with the best experiences available in Costa Rica. Our luxurious private villas, world-class amenities and exciting off-property excursions offer an authentic taste of Costa Rica for every member of the family.
Why Costa Rica is a Perfect Vacation Destination for Families With Kids
Costa Rica is a perfect destination for families with young children. The gem of Central America offers breathtaking scenery, from the ocean's waves to the highest peaks of the cloud forest. Exceptionally diverse wildlife roams throughout the country. Your family can enjoy an unbelievably close view of exotic creatures like monkeys, sloths and wild birds. As one of the safest countries in Latin America, Costa Rica delivers the ultimate fun factor without you having to venture too far from home.
If you're wondering is Costa Rica kid-friendly, you'll be surprised at just how many enriching cultural and educational experiences your children will have while engaging in fun activities. Even simple activities like splashing in the waters of the Pacific or taking a leisurely stroll through the rain forest offer fantastic opportunities to view wildlife, learn about Costa Rican history and interact with locals.
Traveling with Kids in Costa Rica
Traveling out of the country can be an inspiring experience for young children, but keep in mind that a trip to any new place may present a few challenges for little ones. If you're from a colder climate, your children may not be used to the abundance of sunshine and warmth that fills Costa Rica. We recommend that all parents pack sunscreen, sunglasses, hats and bug spray. Consider packing a few long-sleeve T-shirts and a pair of pants as well to protect against the sun's rays.

We also suggest that parents pack a few toys or books for their children to enjoy. Although you'll spend much of your time exploring the Manuel Antonio area, you'll definitely want to take advantage of our luxurious private amenities, where you can relax and rest. When you're unwinding in your villa or on the pool deck, having a book or toy on-hand to keep your children entertained is quite useful. We encourage you to bring whatever you believe your child needs to ensure they have an amazing experience. And rest assured that with luxury amenities, reliable childcare, complimentary excursion planning, and first-class villa staff, we'll be focused on making sure you and your children have an amazing experience, too.
Costa Rica With Kids One Week Itinerary
"Where should I travel with kids in Costa Rica?" is a question we're asked countless times, especially by those with toddlers. The truth is that exploring Costa Rica with 3-year-old, 4-year-old or 5-year-old kids can be tricky if you don't have a plan. We've created this thorough one-week itinerary for our guests traveling to Costa Rica with toddlers and other young kids. Let us take care of the logistics and planning so all you need to worry about is capturing the moment.
Day 1: Arrive & Absorb Yourself in Pura Vida
You'll likely arrive by air to the capital city of San Jose then make your way southwest from the airport to Villa Punto de Vista in the Manuel Antonio area along Costa Rica's Pacific Coast. Gaze out the windows and marvel at the lush rainforest and ocean views that give you a glimpse at the natural beauty that you'll enjoy throughout your entire vacation. The car ride is a great opportunity to brush up on your Spanish, read a good book or simply sit back and relax.
When you arrive at Villa Punto de Vista, we encourage you to take your time getting settled into your comfortable villa. Traveling to Costa Rica with a 4-year-old in tow might be a long journey, so take advantage of our serene spaces and consider a quick nap or shower to refresh your family. When you're ready, we invite you to explore our grounds and familiarize yourself with our amenities. Venture up to our rooftop deck overlooking the ocean or relax in the spacious living room.
After enjoying a dinner prepared by our talented personal chefs, spend the rest of your evening resting up for your adventures in the morning. Retire to the comfort of your private villa or hang out in our community spaces. The pool terrace is a perfect place to sit and soak your feet while watching the sunset. When you're in Costa Rica with a 5-year-old, keeping a bedtime schedule is important so they feel rested and ready for the next day.
Day 2: Journey into the Jungle
Kick-off your first full day in Costa Rica by venturing into the tropical rainforest. We recommend scheduling a morning or afternoon tour of the wondrous Manuel Antonio National Park. The exciting educational experience will take you pass diverse flora and fauna as you and your bilingual guide search for iguanas, toucans, squirrel monkeys, parrots, sloths and other beautiful animals. Don't worry — your guide will bring along a monocular so you can get a closer look and learn more about these stunning creatures.
After you've had an adventure on foot, we encourage you to see the sights of Costa Rica on horseback! Schedule an afternoon horseback expedition to learn more about the diversity of the region. A family of naturalists will guide you to scenic views that will take your breath away. The four-hour tour also includes a savory lunch of exotic Costa Rician treats that you'll love. When your ride if over, you'll have plenty of time to relax in your villa before cooking dinner in our well-equipped professional chef kitchen.
If you're still interested in playing after your adventures around the rainforest, we invite you to check out the game room on-site. The room has plenty of entertainment for the whole family. Mom and dad can shoot a game of pool while the children play board games or cards. An audio system, LED TV and wet bar mean you'll have hours of enjoyment. Feel free to pop in a fun kid's movie as well and enjoy the night with your family and our amazing ocean views.
Day 3: Wade Into the Waves
You've journeyed into the jungle, now wander into the waves and spend the day on the beach. We suggest spending a few hours on the shore taking in the rays. A beach trip is a perfect activity in Costa Rica when you have a toddler in tow. They can splash in the water, dig in the sand and have a serene nap under the shade of your umbrella. Villa Punto de Vista is mere feet from the beach so you can effortlessly move between your villa and the water all afternoon long.

For evening activities, mom and dad can arrange a round of golf while the little ones stay behind and have their own night of fun. Villa Punto de Vista is pleased to help you secure reliable childcare at of kid-friendly places close to your villa. Even if you choose to stay on property and just want an adults-only night, we'll happily help you get away for a few hours while your children are looked after.
Day 4: Relax at Villa Punto de Vista
While we won't blame you if you want to jump right into another day packed with off-property activities, we often find that many of our guests traveling to Costa Rica with toddlers use a day in the middle of their vacation to recharge. Although Villa Punto de Vista offers amazing excursions into the jungle and out onto the sea, we also have plenty of fun activities to partake in without venturing far from your villa. Spend the day on-site and let us fill your day with fun.
Have you ever wanted to learn how to play an instrument? Consider taking guitar lessons with us. The guitar is a hallmark of many forms of music popular throughout the country. Costa Rican folk music is especially cherished by Ticos and Ticas, with unique types of folk originating from Guanacaste, the Central Valley, the Caribbean and San Isidro del General. We'll show you the basics or help you improve your playing skills. We also offer Latin dancing lessons for those who want to groove to the music.
Interested in a delicious activity? Take one of our cooking classes and learn how to prepare popular Costa Rican dishes. You'll cook up delicious chicken, rice and beans — all staples of Latin American cuisine — and you'll also learn about the fruits and vegetables that grow throughout the region. Mom and dad can have a little more fun by choosing our wine pairing lessons. We'll teach you how to pick the perfect wine to serve with any meal.
Day 5: Explore the Rainforest
What can toddlers do in Costa Rica? They can enjoy our special Kid's Saving the Rainforest Tour which is exceptionally designed to provide younger children with an engaging and interactive learning experience. The only thing better than seeing the rainforest from the ground is viewing it from above. Grab the family and hop on a zipline canopy tour for the afternoon. The safe and exhilarating experience is one of the most popular in the country.
If mom, dad or older children wish to add a little adrenaline into the afternoon, we're happy to provide a number of action-packed activities for thrill-seekers. Pedal your way through the jungle on our mountain bike tour or kick the day into high gear on an ATV tour. For more fun, consider a white-water rafting tour through the Savegre River or a trip into the canyons. Whatever thrills you seek, Costa Rica is ready to deliver!
When you return to your villa, consider treating yourself to our spa and wellness services. Does a relaxing massage sound like the perfect way to end the day? What about a yoga or Pilates class to make your mind, body and soul feel renewed? If nothing else, you can simply take a dip in the pool to cool down and relax your muscles from a long day of adventuring through the best parts of Costa Rica.
Day 6: Spend the Day Topside
Is the ocean calling your name? Then we suggest you wake up and head straight to the beach! Instead of spending the day on the sea, you should opt for a few excursions on the sea. A guided jetski tour lets you roam free around the Manuel Antonio coastline as you island-hop trying to spot dolphins, sailfish or whales swimming with you. You can also charter a boat for some deep-sea sport fishing. From kayaking and banana boat rides to snorkeling and parasailing, you'll be soaked in fun.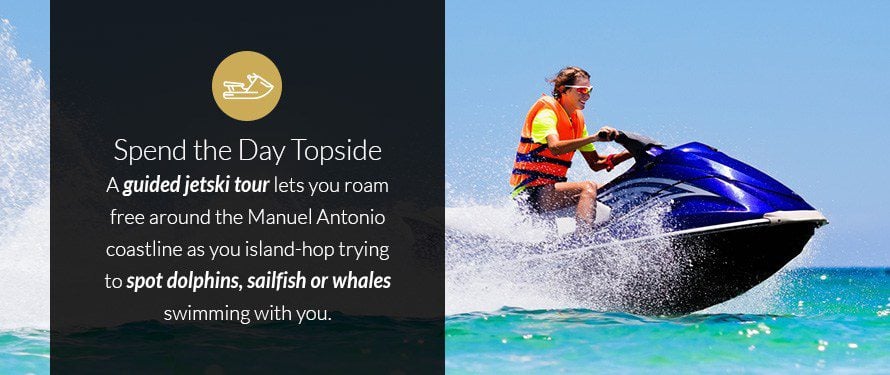 Of course, if you'd rather soak up the sun on land, we've got a treat for you. Wake up early for the Catamaran Isla Tortuga Tour. You and your family will journey to Tortuga Island ten miles out from the mainland where you'll enjoy the pristine white sand on this uninhabited beach. Take in the views from the sand or dive deep and snorkel beneath the water. Lunch is included in this trip and the sunsets you'll see on the way back to the villa are indescribable.
Day 7: Savor the Your Last Minutes of Pura Vida
The last day of vacation is always bittersweet. Begin your morning by stepping outside of your villa to feel the warmth and sunshine, listen to the birds chirp and monkeys howl, and breathe in the fresh air. After a week of seeing everything that the land of Pura Vida has to offer, you should take one last stroll around our property so you can wave farewell to the animals hanging in the trees above.
As you say goodbye to Villa Punto de Vista, take a moment to reflect upon all of the amazing sights, sounds, smells and tastes of Costa Rica you and your family experienced. Look through your photos or update any journal entries you might have started. Of course, the trip back to the airport also gives you plenty of time to dream up all of the other exciting adventures you'll have when you return one day!
Traveling With Children to Costa Rica is Unforgettable With Villa Punto de Vista
Traveling internationally with children may seem like an impossible task but we assure you that visiting Costa Rica with toddlers is one of the easiest and most rewarding experiences you can have. Villa Punto de Vista is ready to help you plan the best vacation for your young family. We offer all-inclusive packages that take care of everything from meals and transportation to activities and excursions.
Experience the Pura Vida lifestyle and fall in love with Costa Rica. Contact Villa Punto de Vista today to learn about all of our luxurious villas, convenient on-site amenities, and exciting tours.