Why Costa Rica Is Your Next Location for a Family Reunion
January 11, 2022
Villa Punto de Vista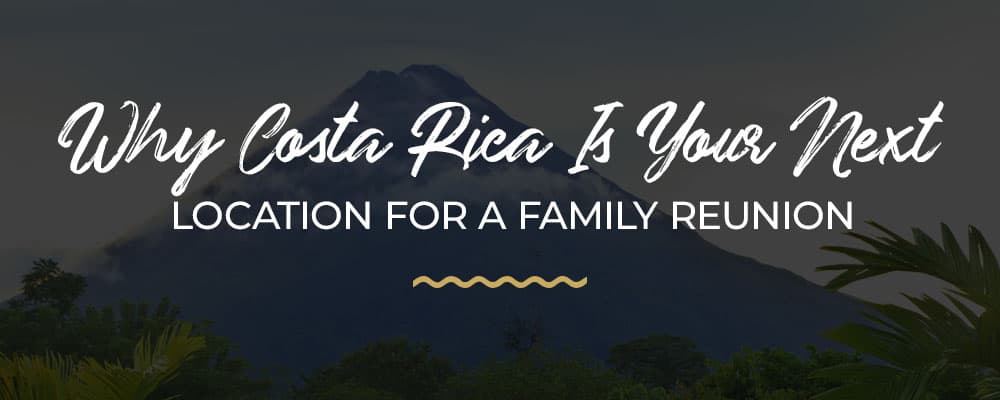 When you're ready for an escape from the hustle and bustle of daily life, there's nothing more refreshing than spending time with your loved ones. Relax and unwind with an unforgettable family reunion in the breathtaking Costa Rican jungle.
You can create your own adventure in this spectacular landscape, from the gorgeous beaches to the tropical rainforest. It offers a wide range of activities for the young and the young at heart. This guide includes the many reasons why Costa Rica is the perfect destination for your next family vacation.
The Importance of Family Reunions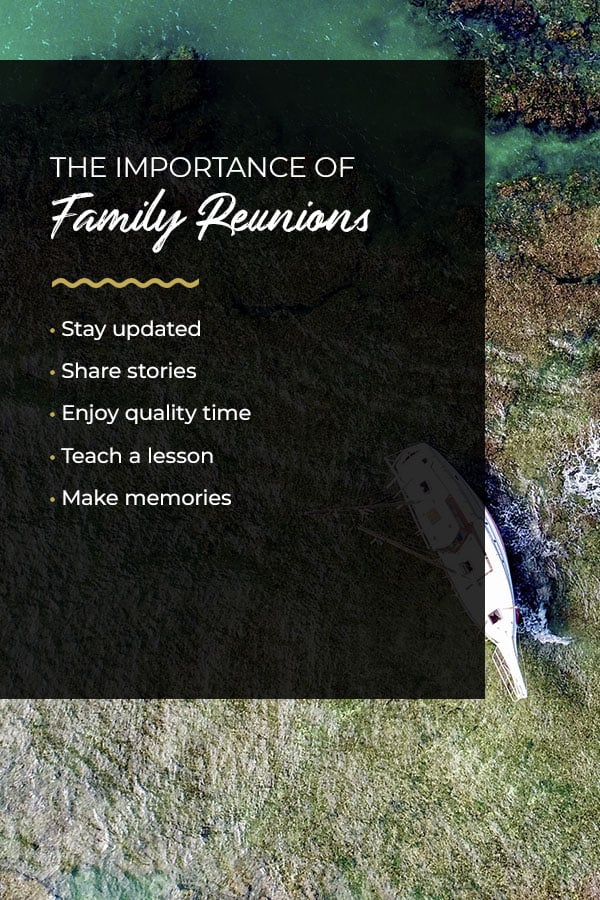 Scheduling time to be with your extended family takes some planning. Everyone has a different schedule, and some people might live long distances away. While it may take time and effort to get everyone together, it's worth it to stay connected. Here's why family reunions are so important:
Stay updated: If you have a busy schedule, months can pass by in a flash. Scheduling a family reunion ensures that you make time to see your family. If you can't make it to every birthday party, you'll at least have the opportunity to catch up on the latest milestones.
Share stories: Every family has a unique history. Scheduling time together allows your family to reminisce about fond memories. Grandparents can share stories about previous generations, so their legacy continues. The newest generation can soak in the stories and learn new things about their family members.
Enjoy quality time: Reunions provide a much-needed escape from work, school and other responsibilities so everyone can relax and focus on building strong relationships. Planning an extended family vacation is even more special. You can enjoy quality time exploring your destination together.
Teach a lesson: Kids learn the importance of family from their childhood experiences. Show your children that family is a priority by scheduling frequent family gatherings. It'll teach them to appreciate their loved ones and remind them that they can always count on their family for love and support.
Make memories: Many people cherish the moments they've spent surrounded by their family. Planning a family reunion gives everyone a chance to bond and make lasting memories together. You'll have stories to tell for the rest of your life.


Visiting Costa Rica for Family Vacation

When choosing a destination for your extended family vacation, it can be challenging to find a location that everyone will enjoy. Here's why Costa Rica is the perfect place to make lifelong memories with your family:

1. Simple Travel

Depending on where you travel from, it only takes a few hours to escape to the serene coastline of Costa Rica. If you're traveling with kids, you'll appreciate a short flight. Costa Rica observes central standard time, so you can avoid jet lag when you fly from the United States. Many airlines offer nonstop flights, which are convenient for traveling in a large group.

2. Gorgeous Weather

Trying to coordinate everyone's schedules for a reunion can sometimes be challenging. Costa Rica experiences gorgeous weather all year, so you can plan your trip when it's convenient for your family. The average temperature ranges from 70-80 degrees Fahrenheit, and it can reach the mid-90s near the coast. The Central Pacific shores in Manuel Antonio are warm enough for swimming any time of year.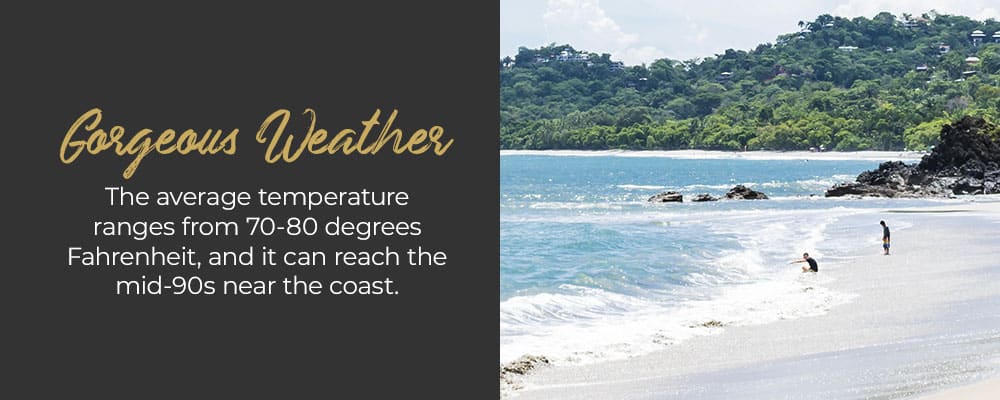 3. Diverse Wildlife
Costa Rica is home to thousands of animals, insects and plants for your family to explore. Nearly 30% of the Costa Rican jungle is protected so the diverse wildlife can flourish. From monkeys and sloths to iguanas and exotic birds, there is an endless supply of spectacular fauna for your family to discover.
You can immerse yourself in nature on a hike through the rainforest or take it slow by visiting a local butterfly atrium or sloth sanctuary. The abundant wildlife will amaze the adults in your group and teach your little ones about the world.
4. Unique Culture
If you want to expand your horizons, travel to Costa Rica to soak in the rich Latin culture. The locals have developed a happy and laid-back lifestyle called Pura Vida — meaning pure life. They strive to enjoy their lives no matter their circumstances. This optimistic and grateful attitude could be why Costa Rica is one of the happiest countries in the world.
Soaking in the Pura Vida culture will help you refresh your mind and gain a newfound appreciation for your family.
5. Delicious Food
With influences from the Caribbean, Europe and China, Costa Rica offers a mouthwatering multi-cultural cuisine. Many of their dishes feature fresh seafood, exotic fruit, rice, beans and a delicious blend of local spices. Your family can gather around the table and bond over traditional Costa Rican meals made from freshly sourced ingredients.
6. Countless Activities
When traveling with multiple generations, it's important to choose a destination that can accommodate everyone's interests and abilities. Costa Rica offers a wide range of activities for your entire family to enjoy. You can take your children on an educational rainforest tour in the morning and go horseback riding in the afternoon. Less adventurous family members can schedule a cooking class or enjoy a tour of the local spice farm. You can organize a mix of activities that appeal to each member of the family.
7. Relaxing Environment
If the stress and responsibilities of life take most of your attention, a family reunion in Costa Rica is the perfect opportunity to unplug. Without the distraction of technology, you can focus on strengthening your relationships with your family. The serene landscape creates an intimate environment where you can relax and bond with your loved ones.
Travel to the Villa Punto de Vista Estate
Experience everything that Costa Rica has to offer at the Villa Punto de Vista Estate. Our property contains two villas to accommodate any size family. You can choose between the Villa Punto de Vista and the Villa la Isla or reserve them both for your extended family. The estate can host up to 50 guests. Your family will enjoy exclusive use of the entire property and full-service staff throughout your stay.
Planning an extended family vacation in Costa Rica is effortless with the help of our attentive staff. Our pre-arrival concierge will help you every step of the way, from planning your travel logistics to recommending tours and services that everyone will enjoy. The daytime and evening butler will continue to assist your family throughout your stay so that you can focus on bonding with your loved ones.
Our luxurious villas are tucked away in the Costa Rican rainforest with stunning 270-degree views of the ocean. We provide an escape into the breathtaking landscape coupled with modern amenities for the ultimate getaway. When you return from a long day of adventures, you can relax by the pool or unwind on a private balcony overlooking the jungle. Visiting the Villa Punto de Vista Estate is a one-of-a-kind experience that your family will treasure for a lifetime.
Experience Luxurious Amenities
The lush rainforest, golden-sand beaches and exotic wildlife draw you to the villas, but the attentive service and lavish amenities will make you never want to leave. Here's how we provide a first-class experience:
1. Sophisticated Suites
If you're traveling with 8-18 people, the Villa la Isla has eight ensuite guest rooms to accommodate your whole family. For larger groups, the Villa Punto de Vista can host 12-30 people in 10 gorgeous bedrooms. If you're hosting more than 30, you can reserve both villas.
Each room is decorated with a unique theme to appeal to a wide range of styles. Both villas have rooms with king and twin bed configurations to suit children and adults. We use top-of-the-line mattresses and bedding so you can enjoy the best sleep of your life.
Since you're spending every day surrounded by family, our sophisticated suites provide crucial privacy so you can recharge before your next adventure.
2. Gourmet Breakfast
At the Villa Punto de Vista Estate, you'll start each day with a delicious complimentary breakfast. Your private chef will prepare a mix of traditional and Costa Rican dishes that are sure to please the entire family. Imagine sitting on the dining terrace, enjoying the scenery while you sip on bottomless passionfruit mimosas.
3. Social Spaces
Each of our villas includes various indoor and outdoor social spaces where you can gather as a family, including:
Outdoor lounge: Each of the villas has an outdoor deck with cozy patio furniture and a full bar where you can relax with a cocktail.
Indoor theatre: Both villas have a theatre with a large TV screen where you can curl up with some popcorn and watch a movie.
Spa room: The Villa la Isla includes a relaxing multi-purpose room that overlooks the ocean. It's the perfect location for a massage, meditation or yoga.
Spacious living room: Each villa has a living room with floor-to-ceiling glass walls that capture gorgeous views of the Costa Rican coastline.
Courtyard: Each villa has an outdoor courtyard where you can have a peaceful moment surrounded by nature.
Infinity pool: Both villas include private infinity pools with stunning views of the ocean.
Dining terrace: Enjoy your complimentary breakfast from the outdoor dining terrace in the Villa Punto de Vista.
4. Full-Service Staff
Our full-service staff prioritizes your happiness and comfort. They'll do whatever it takes to create an exceptional experience, from thorough housekeeping and security to serving cocktails and making reservations. You'll receive luxury service from the moment you book your stay. We'll reserve your transportation and stock the kitchen with your favorite items before you even arrive.
Our onsite butler will provide personalized attention so that your family has an unforgettable experience. You'll even have a private chauffeur so you can access the ocean in a few moments. They'll drive you to the beach and pick you up anytime.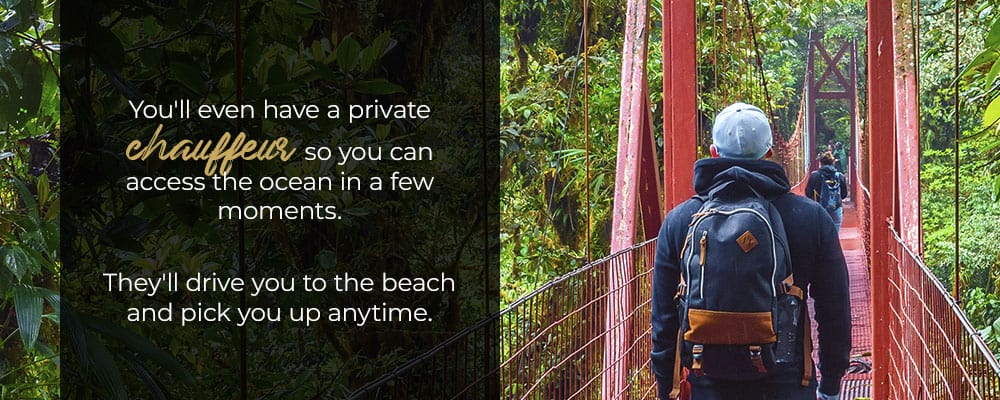 Activities and Tours Near the Villa
From lounging on the beach to swimming in the pool, there are plenty of things to do as a family in Costa Rica from the comfort of your own private villa. Still, the surrounding Manual Antonio district offers dozens of adventures that everyone will enjoy. Here are some popular excursions for a family holiday in Costa Rica:
1. Explore the Beautiful Beaches 
If you want to see even more of the gorgeous Costa Rican beaches, you can sail a catamaran 10 miles off the coast to Tortuga Island. You'll have the entire day to explore this uninhabited beach with your family. Each person can choose between relaxing on the beach, swimming or snorkeling. You'll enjoy a delicious lunch on the beach and return just in time to watch the sunset.
2. Zip Line Through the Rainforest
Zip lining through the treetops of Costa Rica is one of the most popular activities. This exhilarating adventure promises sweeping views of the rainforest. While the height may seem intimidating, canopy tours are safe for children and adults.
3. Visit the Spice Farm
Immerse yourself in Costa Rican culture by touring the local Villa Vanilla spice farm. You'll learn about how some of the local ingredients are grown and harvested. Your guide will explain the sustainable farming practices they use to preserve the natural surroundings. You'll also sample delicious vanilla, cinnamon and chocolate treats throughout the tour. Adults and children of all ages will enjoy this educational excursion.
4. Fish With the Whole Family
Spend the day on the Central Pacific Ocean for a chance to catch world-class fish. Your family will make lifelong memories on this exhilarating adventure. Experience a rush of adrenaline as you real in a sailfish, marlin, wahoo, dorado, yellowfin tuna and other sea life.
5. Experience the Thrill of Whitewater Rafting
If your family is older, a whitewater rafting tour is a thrilling adventure for teens and adults. Paddling across the churning rapids of the Savegre River is a once-in-a-lifetime bonding experience for the family. The sturdy rafts can accommodate 2-6 passengers for a full day of fun and excitement. You'll also enjoy remote swimming spots and waterfalls along your cruise.
6. Soak in the Beauty of the Manuel Antonio National Park
Take your family on a tour of Manuel Antonio National Park to marvel at the diverse wildlife that Costa Rica has to offer. This tropical rainforest conservation is home to thousands of different species, including several endangered animals. It also covers the beach so that you can learn more about sea life and coral reefs.
A naturalist expert will guide you through the park to explain the flora and fauna you encounter. You can use what you learn to identify the wildlife around the villas for the rest of your stay.
Schedule Your Costa Rican Family Reunion
Reunite with your family in a spectacular villa where the rainforest meets the sea. The Villa Punto de Vista Estate is the perfect venue to host your Costa Rica family vacation. The luxurious amenities, picturesque views and diverse wildlife are sure to delight all of your relatives. Create lifelong memories exploring Manuel Antonio with awe-inspiring adventures for the whole family.
There's no better place to rest and reconnect than this extraordinary haven in the jungle. Select one or both of our villas to accommodate nearly any size group. Reserve your stay at the Villa Punto de Vista Estate for an unforgettable Costa Rica experience.